Gynaecology
Experienced gynaecologists and midwives at the Private Clinic Ģimenes veselība take care of our clients' reproductive health by providing gynaecological care and care for pregnant women. The rooms are equipped with modern ultrasound equipment to provide the necessary diagnostic information during the appointment. If you need a more extensive examination, we offer it to be performed by the best ultrasound specialists using a Premium-class ultrasonograph.

The Private Clinic Ģimenes veselība has joined the cervical cancer screening programme. If you have received an invitation letter and would like to see one of our doctors, there will be a charge for the appointment, but no charge for the cytologic examination. In this case, the invitation letter and the cervical cytology screening card attached to the letter will serve as a referral for the state-funded cytologic examination – therefore, don't forget to take it with you!

We offer:
treatment of gynaecological diseases;

various tests;

prenatal care, cardiotocography (recording and assessing foetal heart tones);

family planning and choice of contraception;

infertility diagnosis and treatment, in collaboration with the Embrions Centre for Reproductive Medicine,

addressing menopausal issues;

modern diagnosis;

therapeutic procedures and manipulations;

gynaecological surgeries in Day Care Facility.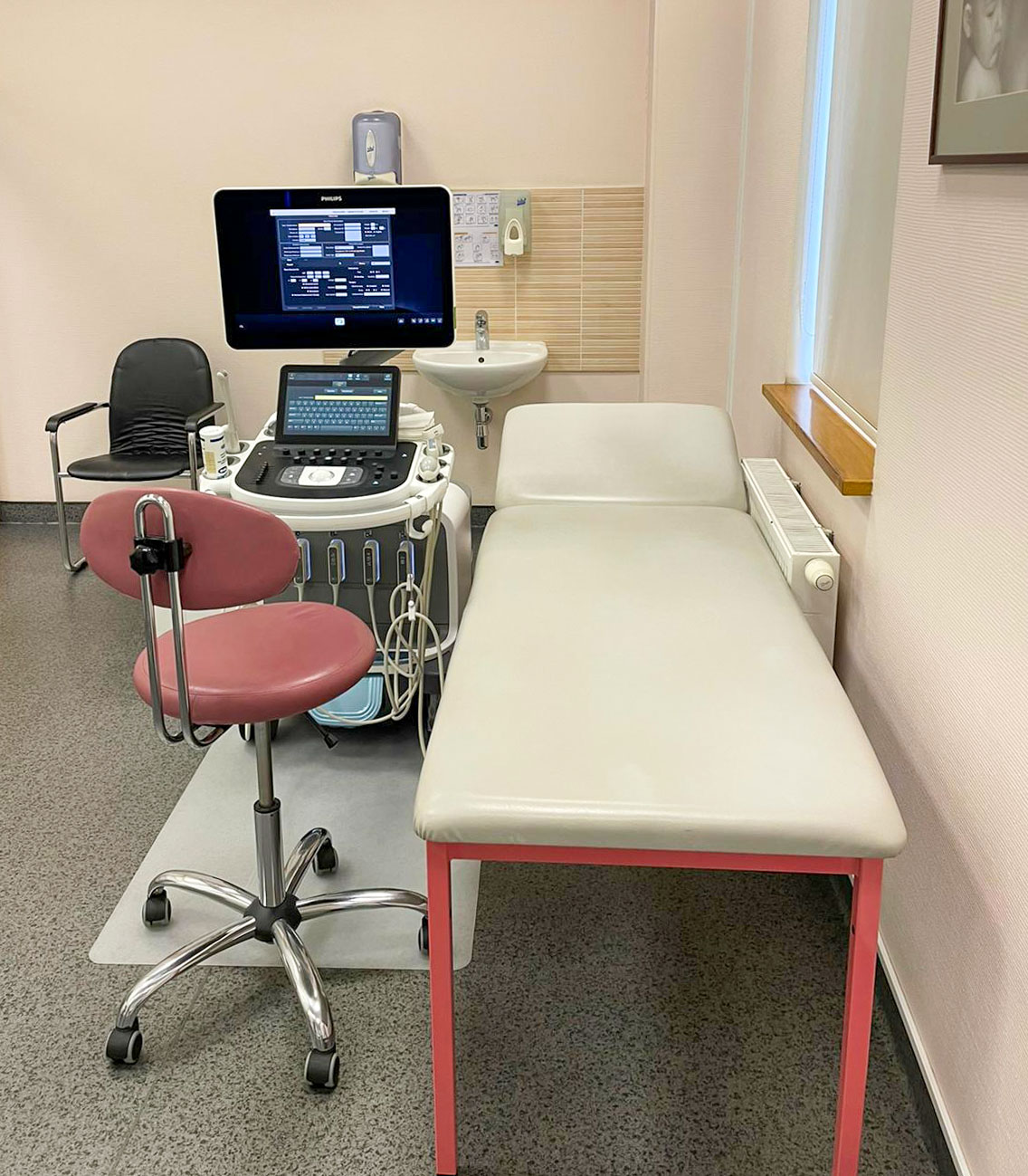 Diagnostic procedures:
ultrasound examinations,

ultrasound examinations for pregnant women,

ultrasonographic assessment of uterine tubes patency,

colposcopy – cervical abnormalities diagnosed by colposcope, which is used when an abnormality is visually diagnosed in the cervix and requires further investigation,

hysteroscopy – an endoscopic technique of diagnosing intrauterine abnormality used in the diagnosis of congenital anomalies of the uterine cavity, septate uterus, adhesions, intramural tubal pathologies, submucosal myomas, differential diagnosis (with or without biopsy) of unspecified uterine masses and endometrial polyps,

aspirate from the uterine cavity,

biopsy sample collection from the uterine cervix.

Manipulations and treatment procedures:
cryodestruction (using liquid nitrogen gas),

treatment of the cervix with drugs,

insertion and removal of the intrauterine device (price includes local cervical anaesthesia),

vaccination against human papillomavirus. The vaccine prevents viral infection, reducing the risk of cervical cancer. The vaccine is indicated for girls and women aged 9-26 years.

We perform the following gynaecological surgeries in the Day Care Facility:
diagnostic abrasion of the uterine cavity and cervix,

removal of the uterine cavity and cervix polyps,

early termination of pregnancy by vacuum aspiration (vacuum abortion),

hysterosalpingography – tubal patency examination for infertility,

intrauterine spiral insertion and removal under anaesthesia,

examination of the uterine cavity by hysteroscopy,

hysteroresectoscopy.

More than 300 pregnant women are registered for prenatal care in Private Clinic Ģimenes veselība. Doctors and midwives work together to provide care that meets every pregnant woman's needs, and a series of lectures is organised for parents-to-be.

We pay special attention to ultrasound in the first and second trimesters of pregnancy.
Prices
Gynecology services
Obstetrician consultation
40 €
Ultrasound examination in obstetrics up to 12 weeks (to specify the time of pregnancy)
25 €
Swab collection for microflora
5 €
Legal abortion up to 6-7 weeks with IV anesthesia
80 €
Fetal ultrasonography at expert level with risk recalculation
50 €
Doppler examination of pregnant women and fetus
38 €
Sonohysterosalpingography (determination of tubal permeability with a catheter)
70 €
Fetal ultrasonography 11-13 weeks, 20-22 weeks- screening examination
42 €
Uterine examination with NaCl
55 €
Out-of-hours ultrasonography (pregnant women, gynecological patients)
55 €
Cervical biopsy and histological examination
46 €
Cytological smear collection
5 €
Oncologist consultation
40 €
Fetal ultrasonography at expert level (detailed evaluation of fetal anatomy, ultrasonographic markers)
45 €
Fetal ultrasonography 11-13 weeks, 20-22 weeks- screening examination - twins
65 €
Diagnostic uterine abrasion
135 €
External cardiotocographic diagnostics
25 €
Cytological examination of biopsy and surgical material footprints
17 €
Gynecologist consultation
40 €
Vaginal or cervical drug treatment with the price of the drug
17 €
Legal abortion up to 6-7 weeks with general anesthesia
105 €
Hysteroresectoscopy
300-370 €
Surcharge for the highest comfort conditions
13 €
IUD administration under IV anesthesia
65 €
I / v antibiotic administration
12 €
Intramuscular injection
10 €
Repeated consultation with a gynecologist
30 €
Endoscopic sonography - intravaginal
38 €
Superficial tissue puncture biopsy
15 €
Subcutaneous implant removal
50 €
Correction of uterine sagging by inserting a ring
20 €
IUS removal with IV anesthesia
65 €