Dermatology
A dermatologist is a doctor specialising in the diagnosis, treatment and prevention of a wide range of diseases of the skin, hair, nails and mucosa. Dermatologists also diagnose, treat and prevent sexually transmitted diseases. Therefore, this specialty is also called dermatovenerology.

Dermatological diseases are often a cosmetic defect at the same time because of their visibility. Dermatology has sub-specialities, the largest of which is aesthetic dermatology. Solving aesthetic problems (skin couperosis, wrinkles, excess hair, pigmentation, etc.) is very topical for many people and involves injections of botulinum toxin, fillers and the use of various modern technologies (lasers, radiofrequency, intense pulsed light devices, etc.).

Skin health has a significant impact on a person's well-being and quality of life; malignant skin masses, melanoma have been detected more often; a number of allergic and inflammatory skin diseases have been increasing due to various factors, therefore it is important to get help of a competent specialist – consultations, diagnosis and treatment when needed.

WHAT HAPPENS DURING AN APPOINTMENT?

During the appointment, the doctor collects comprehensive information about the patient, as the skin is called the mirror of the internal organs. You should inform the dermatologist about allergic diseases, internal diseases of the body that may manifest on the mucosa, skin, nails and hair.

When you go to see a doctor, it is important to bring the results of any previous tests (if available and were made over the last six months) related to your complaint, and tell about previous treatment tactics, medicines used, as in some cases, for example, when treating a fungal infection, it can become resistant to previously taken oral medications.

The doctor may refer you for further tests or recommend you to consult other specialists (gynaecologist, endocrinologist, dietician, phlebologist, etc.) to help prevent underlying conditions. The problematic site will also be checked during the visit. The doctor may use different auxiliary techniques depending on the issue – dermatoscopy (magnification and intense light), Wood's light (a special fluorescent light) that makes lesions invisible to the naked eye visible. Other modern diagnostic technologies – skin ultrasound, siascopy, MoleMax, PhotoFinder and others – are also available in well-equipped clinics and are used during the appointment to specify the diagnosis.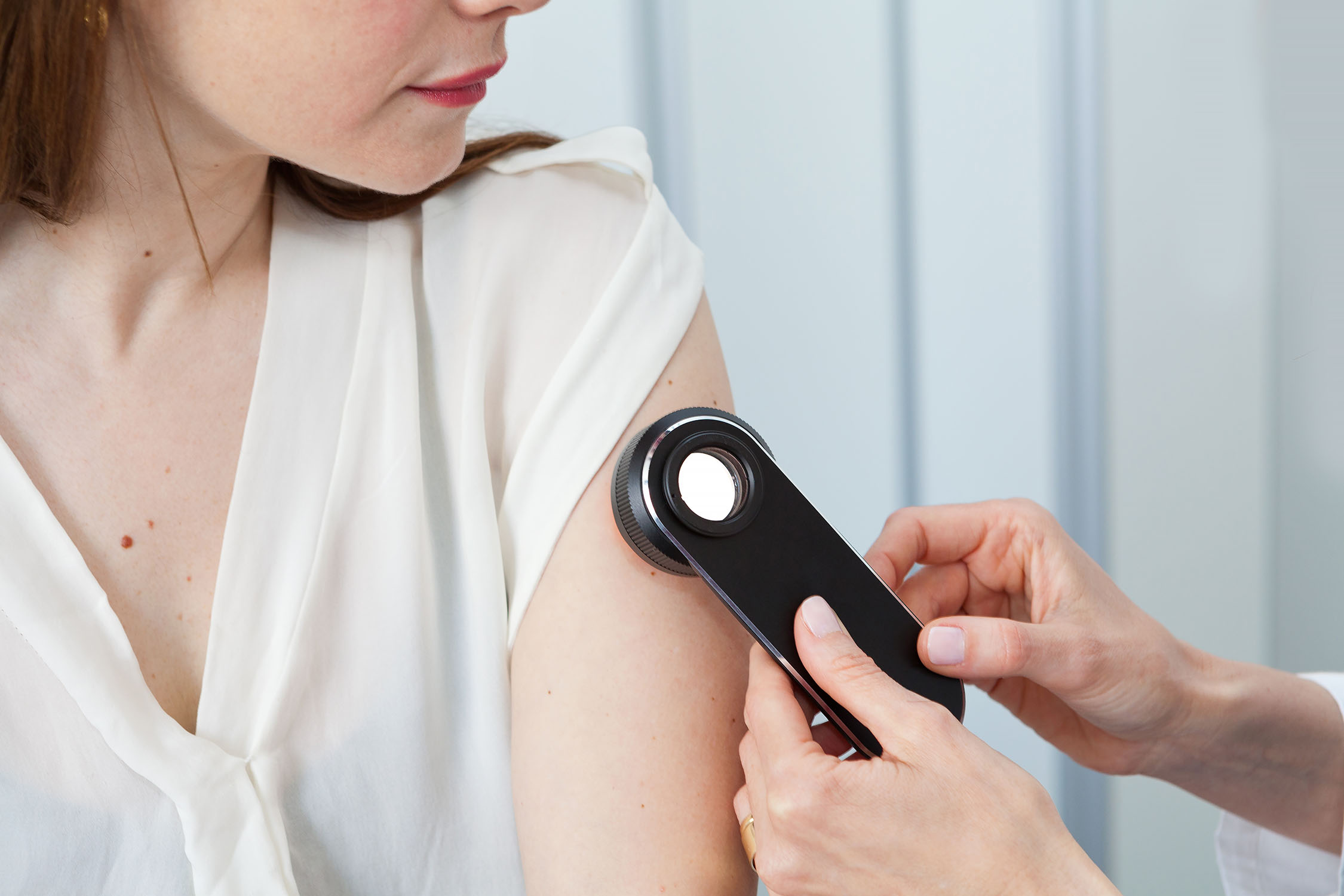 ADVANTAGE:

The dermatologists at Veselības centrs 4 are experienced in diagnosing and treating a wide range of skin/foot/hair diseases and eliminating cosmetic defects, using modern and innovative techniques and their combinations, complemented by drug therapy whenever necessary. Many of these technologies are unique and exclusive in the Baltic States! They provide the opportunity to fully cure the diseases that were previously considered as incurable.

Dermoscopy and other techniques are applied to make an accurate diagnosis.

DO NOT POSTPONE AN APPOINTMENT WITH A DERMATOLOGIST IF:
redness appears on previously healthy skin,

the skin begins to peel,

itching,

skin growths (moles) change their shape, colour, or size,

there are many skin masses,

nails change their colour and shape,

skin discolouration after taking medicines,

increased pigmentation.
Prices
Dermatologist services
Injection without drug and anesthesia costs
120-346 €
Double chin injections (no drug costs)
735-2000 €
Kenaloga injection for scar removal (1 injection)
30 €
PRF injections for the treatment of various dermatological conditions
60.50-363 €
Punch or shave biopsy
52 €
Electrocoagulation for one formation without anesthesia depending on location and size
20-35 €
Application of therapeutic or diagnostic substances
11 €
Cryodestruction per formation depending on location and size
15-23 €
Dermatologist re-consultation (within 1 month)
32 €
Consultation on manipulations
20 €
Preparation for laser hair removal
13 €
Birthmark dermatoscopy (examination)
18 €
Skin or nail scratches, smear removal, analysis removal for cytological examination (excluding analysis price)
10 €
Punch or shave biopsy with ligature
65 €
Material biopsy, histology
38 €
Excision biopsy
100-135 €
First consultation with a dermatologist
40 €
Birthmark mapping with the "MoleMax" digital dermatoscopy device
17.00 €
Cryodestruction for each subsequent formation
6 €